Hundreds of thousands of people are fleeing conflict between Boko Haram insurgents and the Nigerian army, amid attacks on civilians in Borno State, north-east Nigeria.
More than 1.5 million people have been displaced, according to the UNHCR. Many are still in Nigeria but around 157,000 have fled to Niger, Chad and Cameroon this year.
These countries also face sporadic cross-border attacks and military offensives, which have claimed dozens of victims and caused further waves of internal displacement.
MSF is one of the few organisations helping the people affected and is supporting the national authorities of the affected countries. But as the insecurity continues humanitarian organisations face enormous difficulties getting a clear picture of the needs in the region.
Violence in Nigeria
Borno State remains the epicentre of the current conflict and the situation continues to be extremely volatile and tense.  Random attacks occur regularly, mostly targeting civilians. "Boko Haram attacked our village at night, around 10 pm," recalls Fatima, 45 years old. "Armed men entered the houses and burnt them down. Many people were killed. My sister was kidnapped, and I haven't heard from her since. We fled into the forest and walked for 24 hours until we found a road and transport to Maiduguri."
Around 400,000 people live today in Maiduguri, Borno State's capital. Many of them are supported by local communities, while approximately 80,000 are gathered in 15 camps around the city. "There are twelve of us living in a tent, with no other choice," tells Aisha, a 55 year-old displaced women at the Federal Training Centre (FTC) camp. "The canvas is torn and inside it is full of dust and insects. Everything gets wet when it rains."
MSF has opened three primary health care clinics, covering around 35,000 people. The organisation also runs a 72-bed hospital in Maimusari, which includes a 12-bed maternity unit and 60 beds for paediatrics, nutrition and intensive care. Regular donations are also made to local hospitals in order for them to deal with mass casualties following bomb attacks. 
Niger affected
There are 175,000 displaced people in the Diffa region, southeast Niger, according to OCHA (the UN's Office for the Coordination of Humanitarian Affairs).
Many arrived recently after fleeing islands in Lake Chad following a deadly Boko Haram attack. Around 25,000 people are in two camps, one in Bosso and another in Nguigmi, two towns near the lake.
We have deployed mobile clinics in the camps. We are also running the regional mother and child health center in Diffa town. 
On the outskirts, we support three health centres delivering more than 16,000 medical consultations so far in 2015, with 65 percent for children under five.
The situation could deteriorate further as the rainy season is starting and sanitation conditions in the camps are bad; a cholera outbreak could start easily. A peak of malnutrition and malaria cases is also expected during the 'hunger gap' period.
"The main needs are shelter, water, sanitation, health and protection. However, there are still a few organisations working in the area," says Aissami Abdou, MSF field coordinator in Diffa.
Nigerian refugees in Cameroon
The security situation along the Nigerian border remains volatile, with regular incursions from Boko Haram. Refugees arrive in camps run by the national authorities on a daily basis.  
"I have just arrived in Gawar with my husband and four of my children. Boko Haram's fighters kidnapped our three daughters. We don't know anything about them, we can only pray for them," says Emmanuelle, one of the 40,000 refugees in the two camps.
Our team collaborates with national authorities and other humanitarian agencies to provide primary healthcare and water and sanitation.  Sixty percent of the water in the camps is provided by MSF. More than 500 medical consultations are carried out each month.
"The increase in the population caused by this frequent displacement poses a real risk to the food insecurity in the area," says Hassan Maiyaki, MSF Head of Mission in Cameroon.
"Today we are reinforcing our support to the intensive therapeutic feeding centre in Mokolo District Hospital where we offer pediatric and nutritional care to refugees, IDPs and the local population in need of hospitalisation."  
We are also present in Kousseri, on the border with Chad, where around 30,000 people are scattered around the city. Our teams are providing surgical support to the city hospital of the city.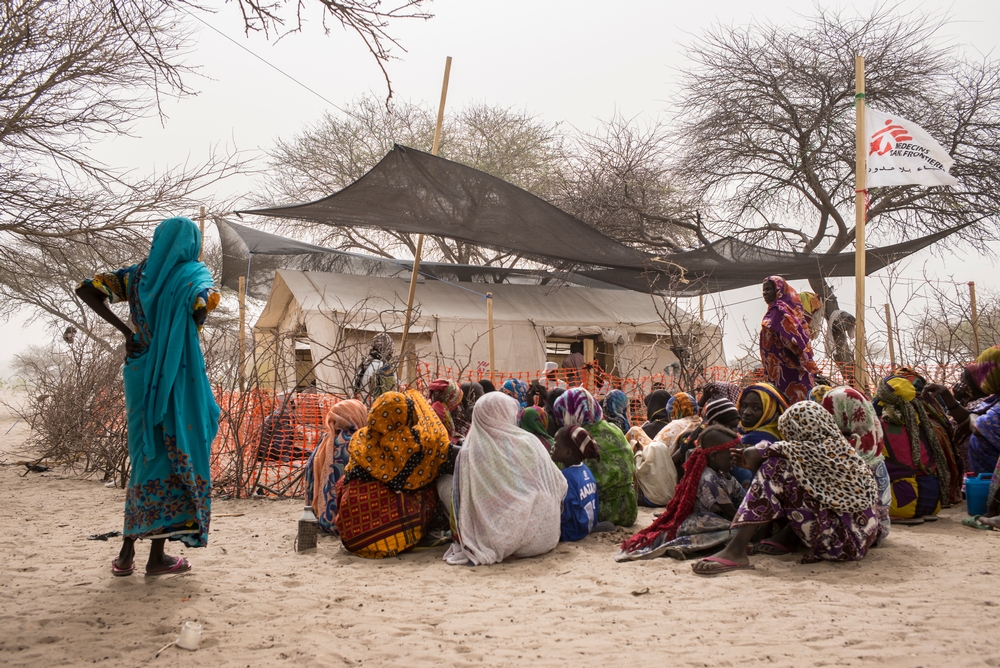 Chad
Some 18,000 Nigerian refugees have arrived in Lake Chad, one of the poorest regions in the country with low vaccination coverage and a high risk of epidemics. We began work in the area at the end of February.
Boko Haram is active around Lake Chad and security continues to deteriorate. In February, an attack in Ngouboua forced thousands of people to flee. On 15 June, two bomb attacks allegedly linked to Boko Haram hit the capital, Ndjamena, killing 27 people and wounding 101.
In the aftermath, we supported Ministry of Health hospitals by providing surgical and medical kits for the influx of patients. Recently we organised mass casualty management training in the General Hospital.
We are currently running mobile clinics in Forkouloum, carrying out around 850 medical consultations a week, mainly for diarrhea and respiratory infections. Many of the patients are Chadian residents who have been displaced by violence.
Psychological support has been a key part of MSF's response. Our teams are providing mental health care. To date, MSF has carried out 223 mental health consultations.
In collaboration with local authorities, MSF also supplied hygiene and shelter kits – including blankets, plastic sheeting and mosquito nets – to around 6,000 people in Ngouboua, Bagasola, and nearby Forkouloum.
Latest news
Ebola update
28th August 2014
Since the Ebola outbreak began in March in Guinea, it has claimed 1,427 lives. The outbreak has spread far beyond Guinea, and is now raging unabated. A total of four countries are now affected: Guinea, Liberia, Nigeria and Sierra Leone. 
Médecins Sans Frontières/Doctors Without Borders (MSF) has started providing technical support to Nigerian health authorities. We are providing technical expertise in areas such as isolation, contact tracing, training and public education. Our assistance is designed to last over a month and is exclusively advisory.
The six person team is supporting the isolation ward set up at the Infectious Disease Hospital (IDH), the referral centre for Ebola patients in Lagos.
Our work
Background: 2013
This is an extract from our latest Activity Report, looking back on our work in the previous year.
Health indicators for people living in northern Nigeria remain poor and there are frequent outbreaks of measles, meningitis and cholera.
An upsurge in violence in 2013 added to the difficulty of obtaining adequate healthcare.
Threats posed by Ansaru and Boko Haram are affecting security for Nigerians as well as aid organisations.
Where possible, teams from Médecins Sans Frontières/Doctors Without Borders (MSF) continued to deliver specialist healthcare to vulnerable people and responded to outbreaks of disease.
Lead poisoning in Zamfara
The rising price of gold has led to renewed interest in mining in Zamfara state, where unsafe practices have resulted in a number of villages being contaminated with lead.
The gold deposits contain unusually high concentrations of the metal, and as the rocks are ground into sand highly contaminated dust fills the air.
Lead can enter the body through the lungs or digestive tract and is particularly harmful to children, potentially causing brain damage, kidney problems and death.
MSF teams screened more than 1,570 children in 2013 and provided some 10,800 basic health consultations for children under five.
Since the beginning of the project, 4,804 children have been screened and 4,306 treated.
MSF continues to lobby at federal government level to remediate the remaining villages – for example remove lead-contaminated soil and mining waste from villages, wells and ponds – and treat the children affected by lead poisoning who live there.
Providing maternity care and fistula surgery
Pregnant women in Jigawa state have limited access to maternity services, and deaths due to pregnancy and childbirth are high.
It is also estimated that between 400,000 and one million Nigerian women live with obstetric fistula, a consequence of birth complications that causes not only pain but incontinence, which in turn often results in social stigma.
MSF's programme in Jahun hospital cares for women with obstetric emergencies and offers surgical repair of fistulas. More than 8,390 women were admitted to the obstetrics unit and 370 women underwent surgery for fistulas.
A maternal and child health programme continued in Goronyo, Sokoto state, where many people suffer from malaria. The project closed in June due to insecurity.
Emergency care in Borno
The ongoing violence in the northeast caused population displacement to other states, including Abuja, and people also fled to countries such as Niger and Cameroon.
MSF provided medical care to 3,750 people in Baga and Chibok. The team ended the intervention, which lasted for 10 weeks, in October because of insecurity.
Measles and cholera
A measles outbreak spread through Katsina state in January and MSF donated medicine to 300 public health clinics, thus providing treatment for 14,290 people.
More than 217,490 children were vaccinated against measles in Bakori, Sabuwa, Funtua, Dandume and Faskari.
Between March and July a team responded to a measles outbreak in Kebbi, Sokoto and Zamfara states, treating 47,585 people and donating 3,600 treatment kits.
Over 2,000 people received cholera treatment in Rini and Gusau between September and the end of December.
At the end of 2013, MSF had 649 staff in Nigeria. MSF has been working in the country since 1996.
Patient story
Rabi, 17-years-old, celebrates her discharge from the Jahun hospital fistula repair programme
"And what of that sick woman who arrived here many days ago? What of her that suffered many days with labour pains, only to see a stillborn baby, and after her wrapper cloth always wet?
"What of the way that her husband turned from her, repulsed by the leaking urine, what of her family who would no longer touch the food that she cooked? What of that chair, the one everyone avoided, the one she alone would sit on?
"That chair is no longer for me, because that woman is no longer me. I am now cured from my injury. With dry cloth around my hips, I am ready to return to my family. I sing because I am happy, I sing because I am free."
Related News & Publications
MSF Christmas cards
MSF Christmas cards are now available to order online.