A small country with considerable influence, Jordan plays an important role in the pursuit of power in the Middle East.
A US ally and one of only two Arab nations to make peace with Israel, the other being Egypt, it is considered one of the safest countries in the region.
Civil war in neighbouring Syria has seen Jordan receive around 600,000 Syrian refugees. The resurgence of Islamic militancy in Iraq also presents security issues.
Médecins Sans Frontières/Doctors Without Borders (MSF) first began working in Jordan in 2006 in response to the medical needs of Iraqi refugees.
Patient story
Nawaf, a 45-year-old amputee at MSF's Al Ramtha hospital
"I was blown up by a landmine while herding sheep and I lost both my legs.
"After four months of treatment, I tried on my prosthetics two days ago, I feel so happy. It's a feeling that you can't explain.
"I can't wait to go back to Syria to show my family that I can walk again." 
Staff story
Antoine Foucher, MSF's country manager in Jordan
"Thus far, the Jordanian government has made significant efforts to host refugees. But the pressure caused by the massive influx of refugees has resulted in an increasingly difficult situation.
"The camp has so far exceeded its capacity, and tensions are running high.
"Host communities in Jordan are also under pressure from the influx of refugees, particularly in the Northern Province, where the population has doubled in recent months.
MSF in Jordan 2014
1,500 individual and group mental health consultations
1,500 patients treated after incidents of violence
1,300 surgical interventions
209 MSF staff
£6.4m expenditure
"There is no existing sustainable solution for hosting refugees, mainly due to a lack of long-term financial support.
"Jordan urgently needs greater international support if they are to sustain a real open-door policy." 
MSF's work in Jordan: 2014
More than 600,000 Syrians fleeing war have sought safety in Jordan, mainly in urban areas.
As a result, the need for basic services such as healthcare has vastly increased.
Maternity hospital in Irbid, northern Jordan
MSF is providing free healthcare to help meet the needs of a large number of Syrian refugees and vulnerable Jordanians. Ante- and postnatal outpatient consultations and basic emergency obstetric and neonatal care are available.
Over 2,000 births were assisted in 2014. MSF extended services by opening a paediatric outpatient department in January, which conducted nearly 14,000 consultations throughout the year. In October, MSF launched a mental health programme for children showing signs of distress from war and displacement and there were 351 consultations by the end of the year.
A team also started a pilot project in mid-December, offering free medical care to Syrian refugees and underprivileged Jordanians with chronic diseases, mostly diabetes and hypertension, at a government clinic in Irbid.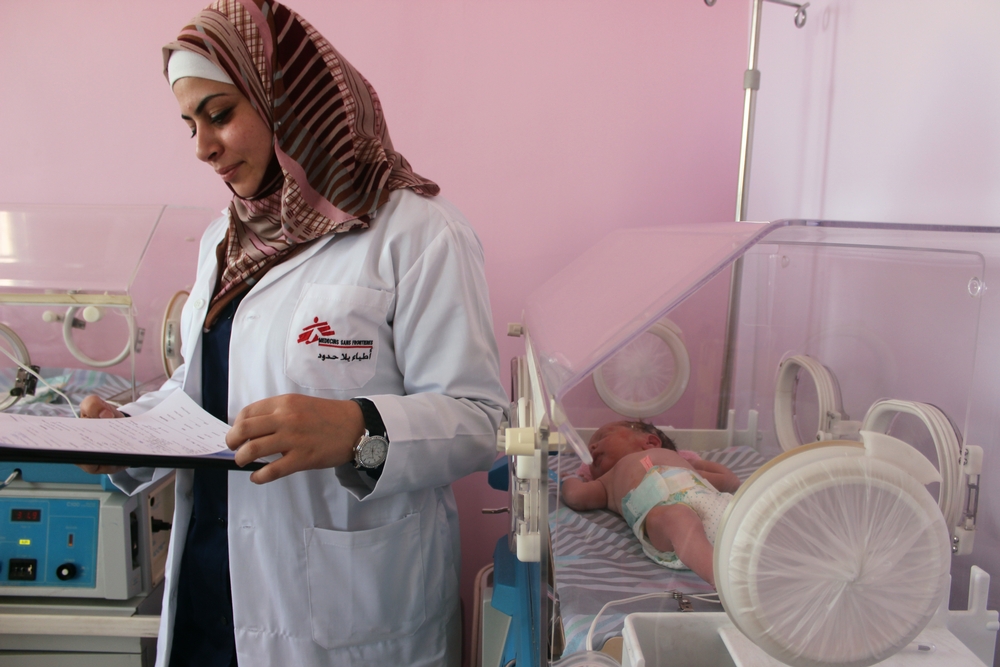 Trauma surgery in Ar Ramtha
Just a few kilometres from the border with Syria's Daraa governorate, MSF provides emergency surgery for wounded Syrians in Ar Ramtha hospital. More than 1,300 major surgical interventions, many of them lifesaving, were performed on 538 patients. General inpatient care and physical therapy were also available, and more than 1,160 mental health consultations took place.
In March, MSF opened a post-operative care facility in Zaatari refugee camp. This 40-bed facility is for war-wounded patients transferred from Ar Ramtha and other hospitals in Jordan. Among the more than 460 patients admitted were 244 patients needing follow-up care for pain management and wound treatment. Mental health support and physical therapy are also offered.
Reconstructive surgery in Amman
MSF's reconstructive surgery programme in Amman provides a critical service for victims – many of them children – of conflict in Syria, Iraq and Yemen. Patients are referred through a network of doctors in the region and surgeons carry out orthopaedic, maxillofacial and plastic reconstructive surgery free of charge to help patients recover from devastating injuries.
The team performed 1,369 surgical procedures in 2014, and Syrians accounted for 45 per cent of all admissions. An outpatient department also provides consultations for Syrians who have undergone operations elsewhere and need post-operative care. Mental health professionals ran a total of 8,000 sessions with patients in this project.
Find out more in our 2014 International Activity Report.
At the end of 2014, MSF had 209 staff in Jordan. MSF began working in the country in 2006.
Latest news from MSF in Jordan:
Related News & Publications