A small country with considerable influence, Jordan plays an important role in the pursuit of power in the Middle East.
A US ally and one of only two Arab nations to make peace with Israel, the other being Egypt, it is considered one of the safest countries in the region.
MSF in Jordan 2015
5,400 individual and group mental health consultations
1,700 surgical interventions
529 MSF staff
£10.9m expenditure
Civil war in neighbouring Syria has seen Jordan receive around 600,000 Syrian refugees. The resurgence of Islamic militancy in Iraq also presents security issues.
Médecins Sans Frontières/Doctors Without Borders (MSF) first began working in Jordan in 2006 in response to the medical needs of Iraqi refugees.
Patient story
Nawaf, a 45-year-old amputee at MSF's Al Ramtha hospital
"I was blown up by a landmine while herding sheep and I lost both my legs.
"After four months of treatment, I tried on my prosthetics two days ago, I feel so happy. It's a feeling that you can't explain.
"I can't wait to go back to Syria to show my family that I can walk again." 
Staff story
David Elliot, surgeon
MSF's work in Jordan: 2015
Restrictions on working and reductions in international aid have made it even harder for Syrian refugees living in Jordan to access healthcare.
Since November 2014, Syrians have had to pay if they want to access healthcare in public hospitals but their resources have been diminishing, as they are not allowed to work legally in the country. International funding has also decreased.
There is a huge need for treatment for non-communicable diseases and in 2015 MSF expanded a project offering care to Syrian refugees and vulnerable Jordanians with hypertension, diabetes, cardiovascular diseases and chronic obstructive pulmonary disease.
Maternity care
A maternity and neonatal project run by MSF moved to a specialist hospital in January and emergency caesarean sections were performed there from February.
By year's end, the team had admitted over 3,900 pregnant women and assisted 3,400 deliveries. They also conducted mental health sessions with 274 patients, three quarters of whom had witnessed a violent death and a third of whom had lost a close relative and/or had their house destroyed.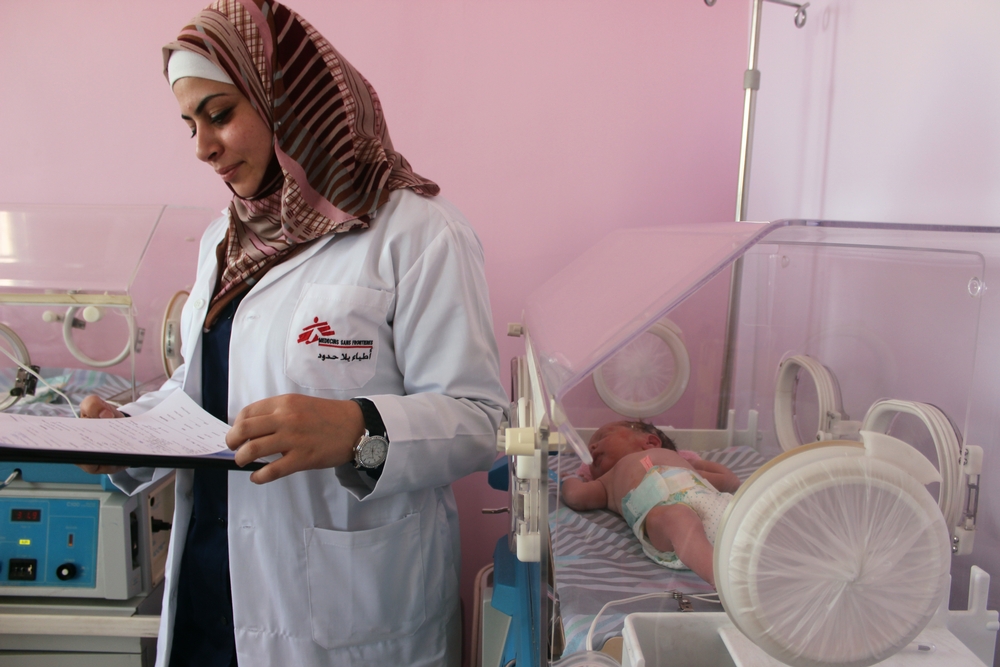 Trauma surgery and post-operative care
MSF continues to treat war-wounded Syrians at Ar Ramtha government hospital, Irbid governorate, at the Syrian border. Working with the Ministry of Health, MSF provides emergency surgery and general inpatient care, as well as physiotherapy sessions and psychosocial support.
In 2015, the team in the emergency room attended to 863 wounded patients, 315 of whom were admitted for surgery. They also undertook over 1,600 individual counselling sessions.  
MSF runs a 40-bed post-operative facility in Zaatari refugee camp, Mafraq governorate, which admits patients from Ar Ramtha and other Jordanian hospitals for rehabilitative and convalescent care. More than 1,540 psychosocial sessions conducted in 2015.
Reconstructive surgery in Amman
The reconstructive surgery project in Amman offers orthopaedic, plastic and maxillofacial surgery, along with physiotherapy and mental health support, primarily to war-wounded patients from neighbouring countries who would not otherwise be able to access specialised care.
In February, the project moved to a new hospital where surgeons performed over 880 surgical interventions. A network of doctors in the region refers patients and this year 58 percent were from Syria, 30 percent from Iraq and 7 percent from Palestine.
Find out more in our 2015 International Activity Report.
At the end of 2015, MSF had 529 staff in Jordan. MSF began working in the country in 2006.
Latest news from MSF in Jordan:
Related News & Publications