The second largest country in Africa (after Algeria), Democratic Republic of Congo (DRC) is a country rich in natural resources but plagued by conflict.
MSF in DRC 2014
1,593,800 outpatient consultations

499,400 patients treated for malaria

116,300 patients admitted to hospital

2,999 MSF staff

£52 million expenditure
The country has until recently been at the centre of what some observers call "Africa's world war", with widespread civilian suffering the result.
The five-year conflict pitted government forces, supported by Angola, Namibia and Zimbabwe, against rebels backed by Uganda and Rwanda.
Despite a peace deal and the formation of a transitional government in 2003, people in the east of the country remain in fear of continuing death, rape or displacement by marauding militias and the army.
Médecins Sans Frontières/Doctors Without Borders (MSF) first began working in DRC in 1981 in response to armed conflict, endemic/epidemic disease and healthcare exclusion.
Patient Story
Thirty-seven-year-old Elysee is an HIV patient
"I've been here at the Kabinda Centre for six days. When I arrived, my condition was much worse. I couldn't sit up, I couldn't stand.
"But now I'm better. I have a bit of pain, in my side mostly, but once those pains go away I'll be able to go home.
"It's a painful illness, a bit difficult…But what can you do! You can only live with it.
"While I was ill, people went to my house and took everything. They took whatever they could, believing that I was going to die."
Staff story
Dr Josine Blanksma worked in Baraka hospital in eastern DRC for eight months
"We're working around the clock, doing everything we can to save children's lives. It is the peak of the malaria season in DRC.
"Every day, many patients are brought with severe malaria to us in the hospital.
"Luckily, in most cases, we're able to help them in time."
MSF's work in DRC: 2014
In 2014, Médecins Sans Frontières (MSF) continued to respond to the humanitarian consequences of conflict in the eastern provinces of the DRC, as well as to outbreaks of disease across the country.
Rutshuru, North Kivu
The MSF-supported 300-bed general reference hospital remains the only place where the host population and displaced people can obtain specialist healthcare in Rutshuru territory. More than 28,800 patients were admitted this year, a 31 per cent increase over 2013.
Masisi
Teams work in Masisi hospital, an outpatient centre in Masisi town, and Nyabiondo health centre, west of Masisi. Mobile clinics visit camps for displaced people and remote villages in the area. A vaccination campaign immunised over 4,000 children and pregnant women against a wide range of diseases. MSF provides basic and specialist healthcare in Mweso and Walikale hospitals and associated health centres, and runs malaria focused mobile clinics in Walikale health zone, where the disease is rife. Over 16,200 patients were treated for malaria in 2014.
Shabunda
MSF continues to support  Shabunda general hospital, the smaller Matili hospital, and seven health centres in South Kivu. Basic and specialist care was also provided to displaced people and host communities in Minova and Kalonge through the local hospitals and health centres. The Kalonge project was handed over to the health ministry in April.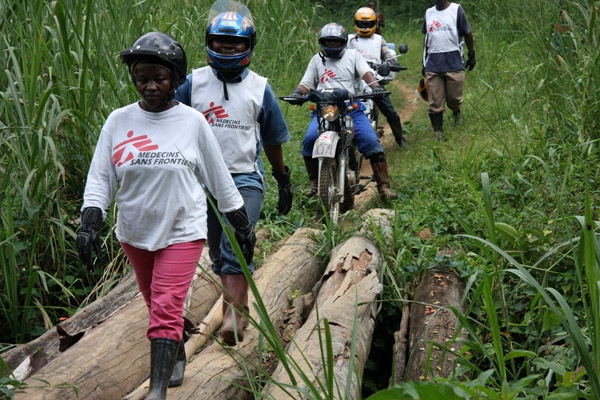 Fizi territory
MSF treated more than 101,200 patients for malaria in its Baraka project, assisted 8,500 births and cared for 2,035 cholera patients.
Lulimba hospital in Kimbi Lulenge health zone
MSF saw an increase in patient numbers in 2014, as other aid organisations providing healthcare left the region – staff conducted more than 76,100 outpatient consultations and treated 42,800 patients for malaria. A sexual and reproductive health clinic was opened in October in Misisi.
Kataki health area
We combated recurrent outbreaks of cholera by improving water supply, distributing residential water filters and vaccinating 51,400 people against the disease in July. Some 700 people received treatment from MSF during a cholera outbreak in July and August.
Kongolo
MSF treated more than 12,300 children under five for malaria and admitted over 1,350 children with severe or complicated malaria to Kongolo hospital between March and June.
Lubumbashi
MSF responded to a spike in measles cases by providing clinical care in two health facilities. Following a cholera outbreak in the city, MSF distributed water, disinfected family homes and rehabilitated wells.
Shamwana hospital and Kiambi, Mitwaba and Kilwa health zones
Some 67,000 outpatient consultations were carried out. A community-based malaria programme with nine fixed sites along the Mpiana–Kishale axis was set up, providing treatment for simple malaria in villages in the area. A motorbike referral system was expanded to transport patients to hospital and road rehabilitation work was undertaken to improve access to healthcare.
Gety health zone
MSF focuses on healthcare for women and children under five. MSF also manages Gety hospital's emergency and intensive care wards, paediatric and maternity services, blood transfusions and laboratory. A neonatal ward was opened in September. To relieve pressure on health centres in the area, MSF donated medicines and treated more than 96,800 patients.
Nia Nia, Mambassa and Bafwasende health zones
MSF provided medical care, including urgently needed support for victims of sexual violence, from June to November. In October, teams offered health consultations in Ituri district following an influx of 25,000 people escaping conflict in North Kivu.
The project screening and treating patients with sleeping sickness (human African trypanosomiasis) in Ganga-Dingila, Ango and Zobia was closed due to low prevalence but activities were ongoing in Doruma.
MSF continued to manage Dingila hospital's intensive care and emergency wards until December when the project was closed.
Kinshasa
The MSF HIV programme in Kinshasa is now focused on providing comprehensive and high-quality care to people living in the Massina neighbourhood.
Ebola
When the first cases were confirmed in August, MSF set up two treatment centres and worked with the health ministry to manage and control the outbreak. Of 25 Ebola patients treated at these centres, 13 recovered. The outbreak was over by November.
Find out more in our 2014 International Activity Report.
At the end of 2014, MSF had 2,999 staff working in DRC. MSF first began working in the country in 1981.
Latest news from MSF in DRC:
Related News & Publications