The second largest country in Africa (after Algeria), Democratic Republic of Congo (DRC) is a country rich in natural resources but plagued by conflict.
MSF in DRC 2015
1,652,000 outpatient consultations

882,500 patients treated for malaria

156,500 patients admitted to hospital

2,867 MSF staff

£85.3m expenditure
The country has until recently been at the centre of what some observers call "Africa's world war", with widespread civilian suffering the result.
The five-year conflict pitted government forces, supported by Angola, Namibia and Zimbabwe, against rebels backed by Uganda and Rwanda.
Despite a peace deal and the formation of a transitional government in 2003, people in the east of the country remain in fear of continuing death, rape or displacement by marauding militias and the army.
Médecins Sans Frontières/Doctors Without Borders (MSF) first began working in DRC in 1981 in response to armed conflict, endemic/epidemic disease and healthcare exclusion.
Patient Story
Thirty-seven-year-old Elysee is an HIV patient
"I've been here at the Kabinda Centre for six days. When I arrived, my condition was much worse. I couldn't sit up, I couldn't stand.
"But now I'm better. I have a bit of pain, in my side mostly, but once those pains go away I'll be able to go home.
"It's a painful illness, a bit difficult…But what can you do! You can only live with it.
"While I was ill, people went to my house and took everything. They took whatever they could, believing that I was going to die."
Staff story
MSF communications officer Sandra Smiley spent 2015 in the DRC. Listen to her story on the MSF podcast, Everyday Emergency.
MSF's work in DRC: 2015
The Katanga region in the Democratic Republic of Congo (DRC) was hit by a huge measles epidemic in 2015, and tens of thousands of people were affected.
Such health emergencies occur with alarming regularity in DRC, a result of poor infrastructure and inadequate health services, which are unable to prevent or respond to outbreaks of disease.
Vaccinations against measles in Katanga
 Welaunched activities in April in Malemba Nkulu health zone, eventually deploying multiple teams and intervening in over half of the affected health zones. Teams carried out vaccinations and supported measles treatment for patients at over 100 health centres.
By early December, they had vaccinated over 962,000 children against measles and supported the treatment of nearly 30,000 who had caught the disease.
North Kivu
In Mweso health zone, at the border between Walikale, Masisi and Rutshuru, where almost 105,000 internally displaced people live, MSF continued its comprehensive medical programmes at the respective hospitals, and assisted at local health centres.
Teams distributed emergency and relief items to newly displaced people in Mweso and carried out over 185,000 outpatient consultations – about a quarter of which were for malaria.
More than 13,200 individual mental health sessions were completed, over 4,000 children received treatment for malnutrition and 6,500 births were assisted.
At the Walikale project, close to half of the 133,000 outpatient consultations were related to malaria. Women with high-risk pregnancies were followed up and accommodated at a women's centre in Masisi hospital.
Mobile clinics visited displacement camps and remote villages in the area. Teams treated 343 victims of sexual violence, provided 168,801 outpatient consultations and ran general health education and information activities for over 18,000 people.
The MSF-supported general hospital in Rutshuru remains the only referral hospital in the area and teams there provided over 33,300 emergency consultations – many for malaria – and admitted over 3,700 patients for surgery in 2015.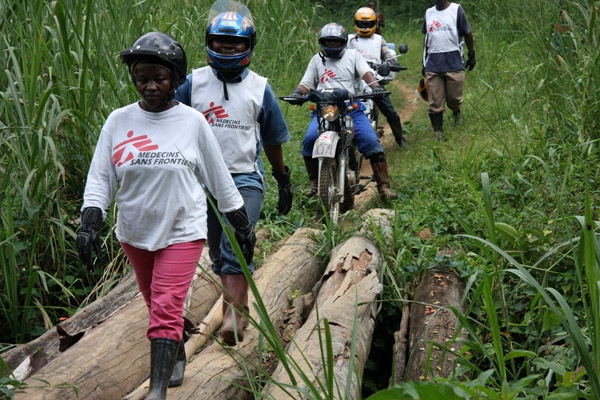 South Kivu
MSF opened a project in Lulingu in August, supporting the general hospital and six peripheral health centres, with a particular focus on care for children and pregnant women. Malaria, gastrointestinal and respiratory tract infections were the main illnesses staff treated in 2015.
 Services include paediatrics, emergency services and an operating theatre. In a similar project in Kalehe, Hauts-Plateaux, MSF supports Numbi reference health centre and three other centers in the area. Some 124,000 outpatient consultations and over 37,000 reproductive health consultations were carried out and around 35,700 children received routine vaccinations.
An increase in malaria in recent years has overwhelmed the MSF-supported Baraka hospital, where capacity has been exceeded by 300 percent.
A 125-bed facility was built for patients who are no longer critical but still need medical care. Several community-based sites helped thousands of children access treatment for malaria, pneumonia and diarrhoea.
Staff carried out 287,000 outpatient consultations and admitted nearly 17,000 patients for care. Teams at Kimbi hospital, associated health centres in Lulimba, Misisi and Lubondja, and community sites provided 149,500 outpatient consultations and treated 125,600 patients for malaria, 373 patients for TB and 311 patients for HIV.
A South Kivu emergency response team launched seven different interventions to tackle epidemics and address the needs of displaced people.
Maniema
In March, MSF opened a new project in Bikenge city, a remote city in the mining area, focusing on the needs of vulnerable groups: pregnant women, children under 15, victims of sexual violence and surgical emergencies. The team carried out around 24,710 consultations, treated 116 victims of sexual violence, and assisted 1,090 births.
Ituri, Haut-Uélé and Bas-Uélé
MSF opened a project to assist returnees and displaced people in Boga health zone. The team supports Boga general regional hospital and Rubingo health centre, offering reproductive, emergency and intensive healthcare. The team's health education and information activities reached over 25,000 people this year.
The Bunia Emergency Pool works throughout Ituri, Haut-Uélé and Bas-Uélé and this year responded to 12 emergencies including outbreaks of cholera, meningitis and measles.
Equateur
An emergency intervention responding to an influx of refugees from the crisis in Central African Republic evolved into a new project in 2015.
Teams worked in Bili and Bossobolo health zones, and mobile clinics delivered basic healthcare to Boduna, Gbagiri, Gbangara, Nguilizi and Gbabuku. More than 62,500 outpatient consultations were provided.
Kinshasa
MSF's Kinshasa-based project has been ensuring comprehensive medical and psychosocial care for people with HIV/AIDS since 2002. Staff working at an MSF hospital and seven partner facilities supported the health ministry in managing a cohort of over 5,300 patients in 2015. They carried out 43,000 outpatient consultations and 32,600 educational sessions.
The Pool d'Urgence Congo, an MSF emergency team, received 171 alerts and intervened in seven emergencies for malnutrition, measles, cholera and refugee crises that benefited over 300,000 people across the country.
Find out more in our 2015 International Activity Report.
At the end of 2015, MSF had 2,867 staff working in DRC. MSF first began working in the country in 1981.
Latest news from MSF in DRC:
Related News & Publications